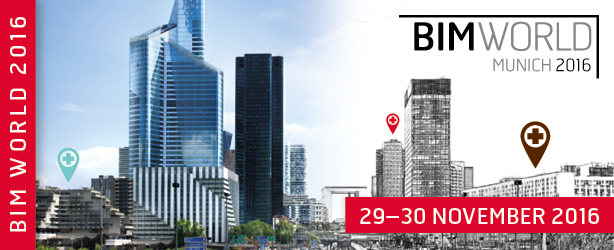 29 – 30 November 2016
Munich, Germany
For the first time in Germany, BIM World will present for two days the new structures around
digital construction and planning.
The BIM World MUNICH will be THE platform in Germany for all engaged sector players. The two day conference with exhibition area will demonstrate the benefits and implementation of the digital processes, present essential software, technologies together with best practices in BIM and outline the upcoming challenges for working with BIM.
Building Information Modelling (BIM) is THE new keyword for the whole ecosystem of construction and planning.
BIM is the digital transformation of the building sector and will redesign the entire industry! Other European countries are already far more advanced than Germany. Who are the market players in Germany and who in particular will be effected? BIM wil be a challenge for the whole industry!
The great success of BIM World PARIS in 2015 showed the urgency and need of a networking event with this specific topic. This is why I would like to invite you to the first BIM World event in Germany. An entire industry is on the move, leading to the emergence of innovative economic models and new skills. And with BIM World MUNICH I´m pleased to announce the 'go' for this change in the German building sector that will push forward the progress of BIM in Germany!
You would like to have further Information about speaking and/or exhibition opportunities?
Please contact Franziska Wegele | f.wegele@bim-world.de or visit www.bim-world.de.